Winter Novel [SteamGift/RU+CIS]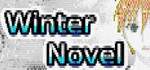 Description
Snow, gray, discouragement. Constant dissatisfaction with their work and superiors, eternal failures. Everything is bad? Maybe. But everything can change!
Sveta is a young employee of the bank. She believes that her life is deeply and completely failed. She secretly dreams of changing jobs, but does not do anything for it.
Vlad is a freelance loner. Unmanageable, careless. But their lives are drastically changing, because they have to work together. Time for rest or complaints simply does not remain, the order is extremely urgent. But the possible result is worth it!
Will the characters overcome themselves? Will you change your life for the better? Are circumstances as inevitable as they seem?

Visual novella in the style of "old school" - feel yourself in the 80s thanks to ASCII-graphics!
Music from the composer of "Infinite Summer" - melodies in the style of the Chiptune will complement your sensations from the game.
"Download less than 1MB ?!" - The game is made on pure SI, as in the old-good times.
30-60 minutes of gameplay - will not allow to be bored, but also will not allow to be lost!
Additional information
Instructions on how to activate Gift:

1. You need to download and install Steam http://steampowered.com/download/SteamInstall.msi (if not already installed)
2. Register your new account on Steam or go to an existing one.
3. obtained after the purchase link, copy and paste into your web browser, log in under your account Steam and take the gift to the library or add to your inventory.
4. After activating the game will appear in the list of games and you can download it from steam.
Feedbacks of Evgen348
(0)
Add to Favorites
Loyalty discount!If the total amount of your purchases from the seller Evgen348больше чем:!
1000$, the discount is 4%
500$, the discount is 3%
100$, the discount is 2%
50$, the discount is 1%