Chelovek10000
information about the seller and his items
Share a link to this page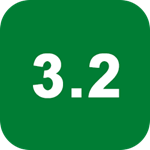 Description Version 25 DHS 3.2
DHS - 3.2
№1.25. Vertices ∆АВС are given: А (–7; –2); B (3; –8); C (–4; 6). Find: a) Equation side AB; b) Equation of height CH; c) the median AM equation; d) the intersection point N of the median AM and the height of the SN; e) the equation of a straight line passing through the vertex C and parallel to the side AB; e) distance from point C to straight line AB.
№2.25. Through the point of intersection of straight lines 2x-5y- 1 = 0 and x + 4y -7 = 0, draw a straight line dividing the segment between points A (4; –3) and B (–1 2)
in the ratio of 2: 3.
Feedbacks of Chelovek10000
(0)