Take On Helicopters (Steam Gift / Region Free) HB link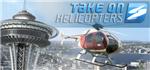 Description
Uploaded: 28.05.2015 22:37:06
Content: text 169 bytes
Buying Take on Helicopters Bundle (Steam Gift / Region Free), you get steam - version of the game Take on Helicopters Bundle.

Genre: Simulation
Developer: Bohemia Interactive
Publisher: Bohemia Interactive
Release Date: October 27, 2011
Languages: English, Czech, French, German, Italian, Spanish

The latest game from independent developers of Bohemia Interactive - creators of the award-winning series of military simulation Arma 2. create a decent amount of knowledge obtained for 10 years in the development of advanced simulators, Take On Helicopters allows the player to see with your own eyes and experience the beautiful scenery of authentic flight model.

The player will feel as a civilian helicopter pilot. Harry Larkin´s aviation business is experiencing hard times. There were many decades dealing honors his last days. At Harry´s sons on the horizon uncertain future full of attempts to save the company, which their father created bit by bit all my life. Together they will have to fulfill contracts and to deal with competitors, and together they ride the helicopter element!

Learn the basics of improving their skills in a series of lobed cheerful competition or create your own missions, using a powerful and at the same time, a clear mission editor.

Ascended into the air on two stunning and huge areas are based on real data about the relief of North America and South Asia.

Using advanced technology, the helicopters will amaze you with its detail, the world - the size and openness, and flights - its authenticity ...

-------------------------------------------------- -----------
Gift it is impossible to give and add to itself in an inventory, only activating on the account.
game (Gift / link) activation is added directly to the library, in the inventory can not be put off ...
Additional information
Activation link Humble Bundle
If not installed Steam client, download and install it - http://steampowered.com/download/SteamInstall.msi
• Log in to your Steam account, or register a new one if you have not already have it.
• obtained after the payment link, you must insert into your Internet browser, then go for it.
• Press the "Steam" (It is under the name of the game!).
• Go to the link: "connect to Steam!" and log in to Steam.
(If you have a link that says: "redeemed to this account", then you´re already logged into Steam and the game was added to your profile!)
• The game will be activated on your account Steam, and also appear in the list of games and you can download it.
• Start the game you will be able to immediately after installation.

•••••••••••••••••••••••••••••••••••••••••••••••••••
A full list of all products:
•••••••••••••••••••••••••••••••••••••••••••••••••••
http://marikon.platy.ru/asp/list_seller.asp?id_s=295444
•••••••••••••••••••••••••••••••••••••••••••••••••••