Шрифт ГОСТ - тип А и В (прямой и наклонный)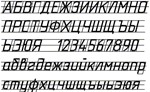 Description
Uploaded: 09.09.2008 19:44:15
Content: file 251218 bytes
filename: gost-font.zip
The need to use a standard font gostirovannogo occurs when placing explanatory notes of projects and dissertations. This is especially true for the engineering disciplines. In addition, the font will be useful in completing the standard framework - you do not have to sign the drawings manually. If you have terrible handwriting, you do not own the drawing hand, you want to save time - you just need this set of fonts. Probably, the Internet can find similar fonts, but you will spend on search time (and money) than we have.
Additional information
В комплекте 4 шрифта, *.ttf - формат шрифтов. Вы получите zip-архив, в котором будет четыре файла. Шрифты соответствуют ГОСТ(у) тип А и В (прямой и наклонный). Архив не имеет пароля. Шрифт можно использовать в любом текстовом редакторе (Word и подобные) предварительно подключив его.
Add to Favorites
Loyalty discount!If the total amount of your purchases from the seller ShopLabбольше чем:!