Script in informer status ICQ Cats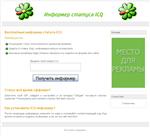 Description
Uploaded: 30.07.2010 17:02:45
Content: file 422608 bytes
filename: icq.rar
With this script you can make your service informer status ICQ. The archive has detailed instructions for installing the script.


Benefits:

- On you will put links so will increase your TCI and PR.

- Easy installation script.

- ICQ status is displayed in real time.

- Beautiful design which can be easily replaced.

- Status ICQ displayed in bb and html code.
Additional information
An example can be seen on the website http://icq.info/


Resale of this product is prohibited.