Pieces for Classical Guitar. Compiled A.Nosov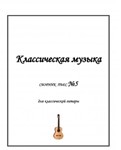 Description
Uploaded: 30.10.2016 11:00:14
Content: file 440406 bytes
filename: Носов сборник.rar
The magnificent collection of pieces for guitar in this collection will interest both beginners and venerable musicians. Heitor Villa-Lobos and Francisco Tarrega, Chopin and Sviridov arranged for classical guitar! The archive is a midi file of all plays.
Additional information
In the "Payment via ..." is a drop-down list.
In it you can choose convenient for you payment method.
Feedbacks of gitar notes
(0)