METAL GEAR SOLID V: THE PHANTOM PAIN Steam Key RU+CIS
SteamRocket
information about the seller and his items
Share a link to this page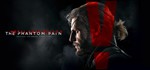 Description METAL GEAR SOLID V: THE PHANTOM PAIN Steam Key RU+CIS
Uploaded: 16.09.2019 22:45:37
Content: text 17 bytes
Konami Digital Entertainment has released the latest chapter of METAL GEAR SOLID V - METAL GEAR SOLID V: The Phantom Pain. Go to the new era of the franchise with advanced technology, which provides the graphics engine Fox Engine. Players expect a lot of positive emotions, because now they will be given the freedom to choose tactics in missions in the open world.

Nine years after the events of the MGSV: GROUND ZEROES game and the fall of the Big Boss main base, Snake comes out of his coma. In the yard in 1984. Against the backdrop of the Cold War, the global aggravation of the nuclear crisis continues. Driven by revenge, Snake creates a new private army and returns to the battlefield in search of the secret XOF group.

The development team of METAL GEAR SOLID continues to ambitiously use such serious topics as the psychology of military conflicts and the attendant atrocities and crimes. MGSV: The Phantom Pain is one of the most anticipated games of the year, which will feature open-world game design, photo-realistic graphics and rich functionality. This game will go down in history as one of the standards of the gaming industry for the cinematic storyline, deep themes and exciting tactical gameplay.
Feedbacks of SteamRocket
(0)