Maria Turnovo. Price issue
Share a link to this page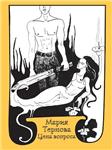 Description Maria Turnovo. Price issue
The main character of the book - Irisha clever, is not only a cute appearance, but also a sense of humor and the ability to anticipate and get into extraordinary circumstances. Unreal reality narration plunges the reader into a fantasy world of good.

Nothing in life happens by accident. Not for nothing Irina meets with surprising Theodore, ominous black rider, hamovatymi haunted, mysterious green creature - Vierne and our earthly contemporaries that vision come to life in the label and the living language of the author.

"Life is even more intense than before the meeting with a stranger, goes further. The main thing - do not let it pass. "
Feedbacks of Jonny_30
(0)