Invisible, Inc. [Steam Gift/RU+CIS]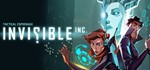 Description
Uploaded: 11.10.2019 22:10:06
Content: text 63 bytes
Take over the leadership of Invisible agents and infiltrate the most dangerous corporations in the world. Stealth, accuracy and teamwork are the most important things in super-profit missions with high stakes, where every step can cost the agent life.

Klei Entertainment, an independent studio, developer of Mark of the Ninja and Don´t Starve hits, presents the game Invisible, Inc.
Game features
Character selection: at the beginning, any of the 10 unlocked game agents (with 6 agent options) and 6 initial programs for hacking corporate security systems are given.
Full customizable plot: each passage is unique, because you yourself create your own strategy, using different agents, different objects, enhancements and programs - and thereby change what is happening around.
Randomly generated world: locations, threats, and mining are generated with elements of randomness; thanks to this game allows for a variety of variations and always keeps in suspense.
Different game modes: 5 game modes and advanced custom settings - you choose how you prefer to play.
Excellent animated video sequences and full sound: hundreds of lines, voiced by the actors, excellent graphics and in-game video animation - we did not spare the forces for the addictive game atmosphere.
Add to Favorites
Loyalty discount!If the total amount of your purchases from the seller Evgen348больше чем:!
1000$, the discount is 4%
500$, the discount is 3%
100$, the discount is 2%
50$, the discount is 1%