Imperator: Rome Deluxe Edition (RU) + GIFTS + DISCOUNT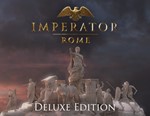 Description
Imperator: Rome Deluxe Edition steam key

All keys are acquired by legal means!
Here you can make the purchase of Imperator: Rome Deluxe Edition steam key for PC. After the first purchase, you will receive a discount on all subsequent purchases of our products.
Immediately after payment by e-mail specified at the time of purchase, you will receive a link where you will be able to access the license activation key for the game.

Gift to EVERY buyer who left a positive review! Detailed instructions below.

▀ ▀ ▀ ▀ ▀ ▀ ▀ ▀ ▀
Activation: Steam
Platform: PC
Language: Russian interface
Activation region: Russia, Ukraine and the CIS

▀ ▀ ▀ ▀ ▀ ▀ ▀ ▀ ▀

Description:

Paradox´s global Imperator: Rome strategy continues to captivate fans by expanding its army of Emperors. The impressive Deluxe Edition, in addition to the main game, will give players a lot of "goodies"! What is the "Hellenistic World" set worth in which are lurking ground units, monuments on the map, events and music!
The publication will reveal to you a lot of new for the War of the Diadocs and will bring even more colorful atmosphere of the era. Among other things, you will be available: 4 new army models - Macedonia, Thrace, Seleucids and Phrygia; 4 new ship models - the structure of military ships of Macedonia, Egypt, Seleucids and Phrygia. They also include the legendary Greek ships; Monuments: Acropolis of Rhodes, Alexander´s Mausoleum, Alexandria Library, Ai-Khanum Palace and Argead Palace in Macedonia; As many as six historical events related to Alexander's legacy, Hellenistic culture, Alexander's war veterans, trade and athletics competitions; Chain of events "The Body of Alexander" - steal the remains of Alexander of Macedon and erect a monument in his honor; Creative event; New music that only owners of the "Hellenistic" package will hear.

Composition of the publication:

• The game Imperator: Rome.
• A set of game materials "Hellenistic World".
• Paradox forum icon.
• Avatar of the Paradox forum.
• Digital artbook.
• Wallpaper.
• Paradox Forum Icon - Deluxe Edition.
• Avatar Forum Paradox - Deluxe Edition.


▀ ▀ ▀ ▀ ▀ ▀ ▀ ▀ ▀ ▀ ▀ ▀ ▀ ▀ ▀ ▀
How to get a Steam game gift

> Buy a game
> Leave positive feedback
> Expect (Newsletter every 48 hours)

This is a Russian version of the game and we are NOT responsible for regional or any other restrictions!
Feedbacks of MoneoGold
(0)