I.Varfolomeev"The course of classical guitar"+midi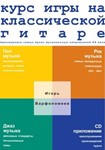 Description
Uploaded: 08.11.2016 9:33:45
Content: file 7373788 bytes
filename: курс игры на классической гитаре+midi.rar
Buy a great collection of music for guitar, with more than seventy popular, world-famous songs arranged for your favorite tool, you can right now. Many thanks to Igor Varfolomeeva for the "course of classical guitar" and provided to every song midi files! This will help the guitarist to understand whether he will be able to play the piece.
Additional information
In the "Payment via ..." is a drop-down list.
In it you can choose convenient for you payment method.
Feedbacks of gitar notes
(0)
Add to Favorites
gitar notes
information about the seller and his items