How to save 50-70% on international calls from any phone.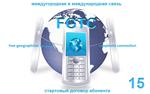 Description
Uploaded: 24.02.2010 22:34:36
Content: file 1952384 bytes
filename: fgtc.zip
In this product include:

1. Description of the system, which allows the subscriber to make calls from any phone, regardless of its location by a single tariff, saving -50-70% cash.

2. The software for mobile phones and PDAs that support the system.

3. Start Treaty and passwords to access the system.

4. up to 25 minutes of long-distance or international calls.
Additional information
С приобретением товара вы получите:
1. Сможете сразу звонить с высоким качеством связи, превосходящее IP-телефонию.
2. Экономия средств, 50-70%, не только находясь в России, но и за рубежом.
3. Высокое сервисное обслуживание и интернет контроль своих разговоров.
4. Отпадет надобность иметь несколько симок операторов, тарифных планов.
5. Ваши платежи не будут зависить от изменения тарифных планов ваших операторов.
6. Сможете осуществлять звонки с любого телефона по выгодным тарифам.
7. В отличии от IP телефонии, нужный вам абонент будет видеть именно ваш номер телефона.
8. По вашему желанию возможностями экономичных звонков смогут пользоватся ваши родственники.
9. Находясь за рубежом, вы будете звонить по тарифам экономичных звонков в России.
10. Говорить будете больше а платить меньше.
Feedbacks of J-Company
(0)
Add to Favorites
Loyalty discount!If the total amount of your purchases from the seller J-Companyбольше чем:!