How do I get all of the clients in 24 hours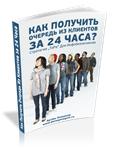 Description
Uploaded: 18.06.2014 10:19:05
Content: text 31 bytes
Who needs this book: How to Get a queue of customers for 24 hours! Strategy Tera! Firstly:


For those who are engaged in earnings on affiliate programs!


For anyone involved in Infobusiness, Reselling!


This book is to help those people who still have a problem with customers and want those customers became more and more!


If you have your own subscriber base and you want to increase the number of subscribers each day 700-800 people!


Additional information
PDF format

This product is sold on the resale rights
Feedbacks of Zigabyte
(0)