Hide (remove) advertising + logo on Ucoz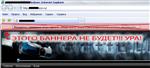 Description
Uploaded: 05.08.2008 1:40:31
Content: text 1779 bytes
If your site is on "free hosting UCOZ".

How to remove a banner advertising UCOZ of runners with their site, this issue arises in everyone who uses a service (ucoz.ru, at.ua, clan.su, moy.su, etc) can be disabled for $ 3 per month paying ucoz. I offer you a small code for $ 0.35 which will hide this annoying banner on your site forever!


NOTE !!!

If you are using your site for its "iframe" - refrain from this kind of scripts.

After installing the code, you can stay a little icon in the upper right corner, "to create a website." But the main listing, and Begun by Ucoz disappear !.
Additional information
Everyone who had positive feedback about the product and help in installation mode live.
Feedbacks of ComfortStyle
(0)
Add to Favorites
Loyalty discount!If the total amount of your purchases from the seller ComfortStyleбольше чем:!
30$, the discount is 15%
10$, the discount is 10%
5$, the discount is 5%
ComfortStyle
information about the seller and his items