Garshasp: The Monster Slayer (Steam key) + Discounts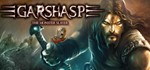 Description
Lord of the devas Hitas headed demon army fire and sword passed through the lands of Persia, conquered and destroyed many villages. The only one who could challenge him - Garshasp hero, obsessed with vengeance, because Hitasp destroyed his family home and killed his older brother. Nothing and nobody will stop Garshaspa in his quest to reach the embattled palace on Mount Oshidarn to punish treacherous enemy!
To achieve the goal the mighty warrior will have to improve their fighting skills, solving puzzles and, of course, kill hundreds of monstrous minions Hitasp ready to lay down his head, protecting his master.
Features
★ Garshasp - Iranian clone of God of War in full size
As the world´s best PS3-slasher game Fanafzar entirely built on mythology. There was a Greek, then - Persian. The protagonist - a title Garshasp, big-haired man who is different from Kratos, perhaps, only wild vegetation on the head, but otherwise behaves the same way. Namely, a lot of running, aggressively brandishing machetes, jumping on platforms and push levers. The reason for such leisure activities at Garshaspa most serious: the enemies not only killed his brother, and stole your favorite mace Sarif, who, in addition to the sonorous female name, there is another important feature - only she can carry violent head main villain Zahaku, which in turn, threatens world Armageddon.
But the story here - only a supplement to the art shredder monsters. Kratos did so many of the most subtle ways, and its eastern counterpart is trying to keep up. Told us the head of Amir Fanafzar Fassihi, the hero will be available in two types of weapons: sword and mace, each with its own set of special moves. Two main types of attacks are combined in different ways, resulting in one to ten sword have slaughter methods. There are fatalities and spetsudary for which a special energy is wasted fury. Last stored as the assassination of enemies.
★ In addition, as Kratos, Garshaspa available magic: using found objects of witchcraft, he will be able, for example, to raise some of the land wall, which would be a trap for the enemy.
However, there is enough traps and for the most Garshaspa. To overcome them, will have a lot of jump. There are unpretentious and puzzles with moving boxes. For the manipulation of objects responsible technology NVIDIA PhysX.
★ On-site and rudimentary RPG-elements: smashing the right and left, east character earns experience points that you can spend on better weapons and pumping favorite fighting techniques.
Additional information
Activation Instructions:

1. You need to download and install Steam http://steampowered.com/download/SteamInstall.msi
2. Go to your account or register a new one.
3. Go to the "My Games" and select "Activate via Steam ...", and enter the key received after payment.
4. Once activated, the game will appear in the game list (Library) and you can download it
Add to Favorites
Loyalty discount!If the total amount of your purchases from the seller Dr.Alexбольше чем:!
100$, the discount is 5%
50$, the discount is 3%
30$, the discount is 2%
10$, the discount is 1%