FN-01 Helios Skin In Game Code (PC/Xbox1/PS4) Paladins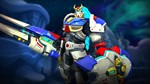 Description
Uploaded: 17.05.2017 0:49:52
Content: text 17 bytes
In Game Code for Paladins

FN-01 Helios Skin In Game Code (PC/Xbox1/PS4/Nintendo Switch)

This code will unlock the FN-01 Helios head, body, and weapon skins and can be redeemed on Xbox One, PlayStation 4 or PC. Paladins is now in Open Beta on Consoles and PC. Download Paladins for free today and redeem your code in-game.
Additional information
Launch the Paladins
From the in-game home screen click STORE then ACCOUNT then REDEEM CODE.
Correctly enter in your code in order to activate the unlock.
Add to Favorites
Loyalty discount!If the total amount of your purchases from the seller BiGWMzбольше чем:!
100$, the discount is 5%
50$, the discount is 3%
20$, the discount is 2%
10$, the discount is 1%