Disciples 3 Gold Edition [Steam Key/Region Free]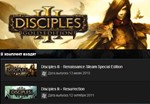 Description
Uploaded: 29.09.2018 18:07:51
Content: text 75 bytes
Included products (2): Disciples III - Renaissance Steam Special Edition, Disciples III - Resurrection


Disciples III: Renaissance - the next part of the award-winning game series Disciples, which is a global step in the evolution of the genre of RPG. Drawing on the significant success of the two previous games of the series, Disciples III: Renaissance contains many new features that improve the gameplay, which has given the previous chapters of the series a huge popularity.


- Three game races - the Empire, the Legion of the Damned and the Elven Alliance, fighting for control of the fantastic universe of Nevendaar. Each race has unique skills and styles.
- Superb 3D graphics - the new game engine offers a rich 3D world, which is a rarity among the RPG genre games.
- Become a hero - create your own hero and fight in battle with a huge number of diverse creatures. Equip your character with one of over 450 weapons, spells, and artifacts.
- Unique characters and classes - Encourage fellow soldiers to help in the battles. Paladins, Mages, Healers and other classes that use visually stunning spells and powers.
- A huge world for research - 19 missions divided into three game campaigns, located in a huge fantasy world with stunning detail.
- Extensive single-user mode - more than 70 hours of game campaign for 19 missions.
Local multiplayer mode


Disciples III: Resurrection - a great continuation of the series!

This is a new milestone in the history of Nevendaar, when a new race - the ruthless and merciless Hordes of the undead - encroaches on the power. This is a story of selfless love and unblemished glory. Heroes of the past who sacrificed their lives, but not their feelings, in order to revenge Mortis, the Goddess of Death.

This game of the series Disciples 3 is dedicated to a new race - the Horde undead. Mostly it was the most anticipated race among the players and fans of the Disciples series, and now their dreams have come true.
Feedbacks of Evgen348
(0)