Coffee For the Deputy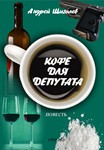 Description
Uploaded: 11.08.2015 17:24:26
Content: file 698735 bytes
filename: Coffee_For_the_Deputy.pdf
Readers are invited to the first book of a new author of detective stories Andrew Schigoleva. This work is an action-art detective, which is based on the difficult working life of police officers who have dedicated their lives to the struggle with a terrible evil - the drug trade.
The plot of the book tells the story of a deadly confrontation between police officers and influential, high-ranking officials, drug traffickers.
Additional information
All characters of this book are fictitious.
Feedbacks of Bert Lemo
(0)