Blank forms CN23-mail Russia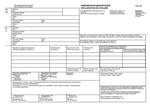 Description
Uploaded: 15.04.2008 23:55:34
Content: file 1127406 bytes
filename: ruspost_cn23.zip
Blank Russian mail form CN23 (declaration to the mailings for the territory of Russia).

Archive Size: 1127 kb.

1 The archive file in .psd, 3 layers, 300 pdi, text fields are not present.

1 layer - a form to fill out.

2 layer - a reminder to the back of the form.

3 layer - white substrate.

This is not a scanned copy.

Blank drawn vector editor and ported in psd.
Additional information
Please leave positive feedback.


Dear customers!

If for some reason the product was unavailable, please do not need to panic, and wrote a negative review. Contact me by e-mail, ICQ or the keeper and I am sure that we will solve all the problems in the shortest time.
Feedbacks of DigitalFox
(0)
Add to Favorites
DigitalFox
information about the seller and his items