Black the Fall Digital version of the Xbox game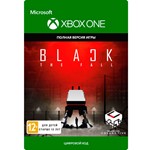 Description
Uploaded: 03.07.2019 22:00:56
Content: text 29 bytes
Fits Xbox One

The code will come immediately after the purchase, automatically displayed in the browser window and will come to your email

Territory of activation and use only RF

About the product
The digital version of the Xbox Black the Fall game will appeal to all those who prefer the gloomy non-standard scenes with an anti-utopian touch and the platformer genre.
CONVENIENCES you get only the content activation code. In this case, you must create a Microsoft account or an account on Xbox Live - no drives. You simply download the game file from the official site.

FEATURES
You have to bring the worker from the factory in which he works in inhuman conditions. But you will not act alone, near a faithful friend - a dog-robot. He can transform into a cube, stool, can swim (contact with water is deadly for a character). Thus, he helps the owner in his difficult path. Travel around the city, fight with an unfriendly population, solve logical problems. The world around is distinguished by high-quality detailing that allows you to fully immerse yourself in the process.

ADVANTAGES
If the hero draws the attention of the guard, he will be instantly destroyed. But do not worry. You will take action again from the very moment the game was
Additional information
CODE ACTIVATION THROUGH THE INTERNET: You have a Microsoft account or profile
Xbox Live? Just log in with your credentials on page
xbox.com/redeemcode and enter the 25-digit code. You have not yet registered on the site? Go to
page xbox.com/live and, following the instructions, create a new account, then enter 25-
digit code For more information about redeeming code on your Xbox console, see page.
xbox.com/howtoredeem-console.
CREDIT CARD IS NOT REQUIRED.
Feedbacks of Aleksandr000123
(0)
Add to Favorites
Aleksandr000123
information about the seller and his items